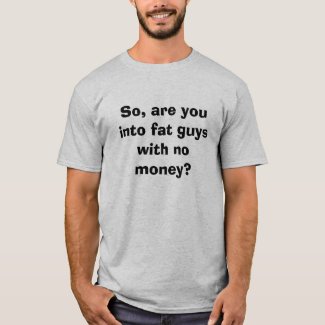 Well, in my never ending quest to improve my financial solvency... I decided to open
my own little section of Zazzle.
For those of you that don't know about the site, Zazzle is a neat little site that lets you make your own t-shirt slogans and offer them for sale to the public.
Originally, I went to this site simply because I've always wanted a shirt that says "So, do you like fat guys with no money?" I looked around the site a bit, and realized that there are surprisingly few t-shirts that express any sort of pride in being fat.
This, I figured, had to rectified.
So I tried to think of every funny thing I could to describe being fat, and put them onto a variety of reasonably priced t-shirts available now for your purchasing pleasure. Keep in mind, they make great gifts for the fat man in your life (even should that fat man be me) and are suitable for almost any occasion. Tell all your friends, neighbors and acquaintances to tell their friends, neighbors and acquaintances about how they simply must have one of these super clever shirts. Also, tell them to sign up to be my friend on the site, so they will get updates every time I come up with a new one. :)
Oh, and should you see any beautiful women wearing the "I dig fat guys" T, please give them my phone number.